Posts for: June, 2019
By Central Dental, PLLC
June 20, 2019
When your baby's first teeth come in, you might not think it necessary yet to worry about tooth decay. But even infants can develop this common dental disease. In fact, it has a specific name in children 6 and under: early childhood caries (ECC).
About one-fourth of U.S. children have ECC, and poor or minority children are at highest risk. Because of primary ("baby") teeth's thin enamel layer, ECC can spread to healthier teeth with unnerving speed, causing extensive damage.
While such damage immediately affects a child's nutrition, speech development and self-esteem, it could also impact their future oral health. Permanent teeth often erupt out of position because of missing primary teeth lost prematurely, creating a poor bite. And children with ECC are more likely to have cavities in their future permanent teeth.
While there are a number of effective treatments for repairing ECC-caused damage, it's best to try to prevent it before damage occurs. A large part of prevention depends on you. You should, for example, begin oral hygiene even before teeth come in by wiping their gums with a clean, damp cloth after feeding. After teeth appear, switch to daily brushing with just a smear of toothpaste.
Because refined sugar is a primary food source for decay-causing bacteria, you should limit it in their diet. In the same vein, avoid sleep-time bottles with fluids like juices, milk or formula. As they grow older, make sure snacks are also low in sugar.
You should also avoid spreading your own oral bacteria to your baby. In this regard, don't put their eating utensils or pacifier in your mouth and don't drink from the same cup. Avoid kissing your baby on the lips. And above all, take care of your own oral health to prevent your own encounter with dental disease.
Finally, start regular dental visits on or before your baby's first birthday. Regular cleanings and checkups increase the chances for early decay detection, as well as provide for treatments and prevention measures that can reduce the disease's spread and destruction.
ECC can be devastating to both your baby's current and future dental health. But with vigilance and good dental practices, you may be able to help them avoid this serious disease.
If you would like more information on tooth decay prevention in young children, please contact us or schedule an appointment for a consultation.
By Central Dental, PLLC
June 10, 2019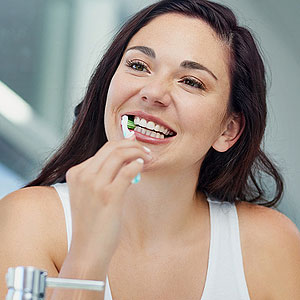 You're not just a patient to your dentist—you're also a partner for achieving your best oral health possible. And it takes what both of you do to achieve it.
No doubt your dentist always strives to bring their "A Game" when providing you care. You should carry the same attitude into your personal oral hygiene—to truly master the skill of brushing.
Like its equally important counterpart flossing, brushing isn't mechanically complicated—you need only a minimum of dexterity to perform it. But there are nuances to brushing that could mean the difference between just adequate and super effective.
The goal of both brushing and flossing is to clean the teeth of dental plaque, a built-up film of bacteria and food particles most responsible for dental diseases like tooth decay and periodontal (gum) disease. Brushing removes plaque from the broad front and back surfaces of teeth, while flossing removes it from between teeth where a toothbrush can't reach.
While a lot of cleaning tasks require bearing down with a little "elbow grease," that's unnecessary with brushing—in fact, you may increase your risk of gum recession if you brush too vigorously or too often. All you need is to apply a gentle, circular motion along all tooth surfaces from the gum line to the top of the tooth—a thorough brushing usually takes about two minutes, once or twice a day.
Your equipment is also important. Be sure your toothbrush is soft-bristled, multi-tufted and with a head small enough to maneuver comfortably inside your mouth. Because the bristles wear and eventually lose their effectiveness, change your brush about every three months. And be sure your toothpaste contains fluoride to help strengthen your enamel.
One last tip: while it may sound counterintuitive, don't brush immediately after a meal. Eating increases the mouth's acidity, which can temporarily soften the minerals in tooth enamel. If you brush right away you might slough off tiny bits of softened enamel. Instead, wait an hour before brushing to give your saliva time to neutralize the acid and help re-mineralize your enamel.
Unlike your dentist partner, your role in caring for your teeth doesn't require years of training. But a little extra effort to improve your brushing proficiency could increase your chances for a healthy mouth.
If you would like more information on best practices for personal oral hygiene, please contact us or schedule an appointment for a consultation. You can also learn more about this topic by reading the Dear Doctor magazine article "10 Tips for Daily Oral Care at Home."