Posts for tag: tooth decay
By Central Dental, PLLC
December 08, 2019
As we age we become more susceptible to dental diseases. A common but often initially unnoticed problem for seniors is root decay.
We're all familiar with tooth decay in the crown, the visible tooth above the gum line. Bacteria feeding on leftover sugar in the mouth produce acid, which at high levels erodes the teeth's protective enamel. This forms cavities and, if untreated, deeper infection within the tooth that could reach the bone via the root canals.
But decay can also directly attack a tooth's roots below the gum line. Roots are made of dentin and covered by a very thin layer of mineralized tooth structure called cementum.  Cementum, which is much softer than enamel, is often lost because of its thinness, thus exposing the root's dentin. This can make the area more susceptible to decay than the enamel-covered crown. Normally, though, the roots also have the gums covering them as added protection against bacterial infection.
But gum recession (shrinkage), a common experience for people in their later years, can expose the root surfaces. As a result, the roots become much more susceptible to decay. And an ensuing infection could spread more quickly into the interior of the tooth than decay originating in the crown.
That's why it's important to remove the decayed material and fill the root cavity to prevent the infection's spread. While similar to a crown filling, the treatment can be more difficult if the root cavity extends below the gum line. In this case, we may need to perform a surgical procedure to access the cavity.
There are other things we can do to help prevent root cavities or limit their damage. We can apply fluoride varnish to strengthen the teeth and provide extra protection against cavities, or prescribe a fluoride rinse for use at home. We can also keep an eye out and treat periodontal (gum) disease, the main cause for gum recession.
The most important thing, though, is what you do: brush and floss thoroughly each day to remove bacterial plaque and limit sugary or acidic foods in your diet. Preventing decay and treating cavities as soon as possible will help ensure you'll keep your teeth healthy and functional all through your senior years.
If you would like more information on preventing and treating tooth decay, please contact us or schedule an appointment for a consultation.
By Central Dental, PLLC
July 20, 2019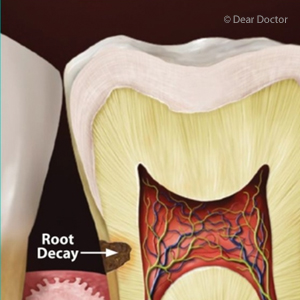 Tooth decay is a destructive oral disease, which along with periodontal (gum) disease is most responsible for tooth loss. And as you age, your disease risk goes up.
One form of decay older people often experience is root cavities. Unlike those occurring in the visible crown, root cavities often occur below the gum line and are especially destructive to tooth structure.
That's because, unlike the crown protected by ultra-hard enamel, the roots are covered by a thin, mineralized material called cementum. Although cementum offers some protection, it can't compare with the decay-resistant capacity of enamel.
The roots also depend on gum coverage for protection. But unfortunately, the gums can shrink back or recede, usually due to gum disease or over-aggressive brushing, and expose some of the root surface. With only the cementum to protect them, the roots can become highly susceptible to decay. If a cavity forms here, it can rapidly advance into the tooth's interior, the pulp, weakening the tooth and increasing its risk of loss.
To stop the decay, we must treat root cavities much like we do with crown cavities: by removing any decayed structure and then filling the cavity. But root cavities are often more difficult to access depending on how far below the gum line they extend. We may need to perform minor gum surgery to expose the cavity to treat it.
But as with any form of tooth decay, the best strategy is to prevent root cavities in the first place. Your first line of defense is a daily hygiene habit of brushing and flossing to remove dental plaque, the main cause for tooth decay. You should also visit your dentist at least twice a year (or more, if recommended) for more thorough cleanings and checkups. Your dentist can also recommend or prescribe preventive rinses, or apply fluoride to at-risk tooth surfaces to strengthen them.
You should also be on the lookout for any signs of gum disease. If you see swollen, reddened or bleeding gums, see your dentist as soon as possible. Stopping possible gum recession will further reduce your risk of root cavities.
If you would like more information on the prevention and treatment of tooth decay, please contact us or schedule an appointment for a consultation. You can also learn more about this topic by reading the Dear Doctor magazine article "Root Cavities: Tooth Decay Near the Gum Line Affects Many Older Adults."
By Central Dental, PLLC
June 20, 2019
When your baby's first teeth come in, you might not think it necessary yet to worry about tooth decay. But even infants can develop this common dental disease. In fact, it has a specific name in children 6 and under: early childhood caries (ECC).
About one-fourth of U.S. children have ECC, and poor or minority children are at highest risk. Because of primary ("baby") teeth's thin enamel layer, ECC can spread to healthier teeth with unnerving speed, causing extensive damage.
While such damage immediately affects a child's nutrition, speech development and self-esteem, it could also impact their future oral health. Permanent teeth often erupt out of position because of missing primary teeth lost prematurely, creating a poor bite. And children with ECC are more likely to have cavities in their future permanent teeth.
While there are a number of effective treatments for repairing ECC-caused damage, it's best to try to prevent it before damage occurs. A large part of prevention depends on you. You should, for example, begin oral hygiene even before teeth come in by wiping their gums with a clean, damp cloth after feeding. After teeth appear, switch to daily brushing with just a smear of toothpaste.
Because refined sugar is a primary food source for decay-causing bacteria, you should limit it in their diet. In the same vein, avoid sleep-time bottles with fluids like juices, milk or formula. As they grow older, make sure snacks are also low in sugar.
You should also avoid spreading your own oral bacteria to your baby. In this regard, don't put their eating utensils or pacifier in your mouth and don't drink from the same cup. Avoid kissing your baby on the lips. And above all, take care of your own oral health to prevent your own encounter with dental disease.
Finally, start regular dental visits on or before your baby's first birthday. Regular cleanings and checkups increase the chances for early decay detection, as well as provide for treatments and prevention measures that can reduce the disease's spread and destruction.
ECC can be devastating to both your baby's current and future dental health. But with vigilance and good dental practices, you may be able to help them avoid this serious disease.
If you would like more information on tooth decay prevention in young children, please contact us or schedule an appointment for a consultation.